My deepest sympathy goes out to all the families, students, professors, and anyone else who has been affected by the tradgedy at Virginia Tech.
I'd like to put the word out also, that people who aren't part of a police force or administration at a university that has had to deal with a situation like this should stop second guessing the 'lock down' policy at Tech. If you'll just read and listen to the news, the police thought they had the perpetrator after the first shooting. They thought it was over. Look at it this way, if there was a murder at an apartment building down the street from your house, would the police put your neighborhood on lock down?
Also, would both sides of the gun control debate please shut up and quit talking about this like it would have been solved with more or less gun control! This is not, I repeat, NOT an appropriate time for your argument. Tech does not want to hear it, Virginia does not want to hear it. We want to heal.
The following was sent via my office, I encourage everyone to participate:
Virginia Tech family members across the country have united to declare this Friday, April 20th, an "Orange and Maroon Effect" day to honor those killed in the tragic events on campus Monday, and to show support for Virginia Tech students, faculty, adminitstrators, staff, alumni, and friends. "Orange and Maroon Effect" was born several years ago as an invitation to Tech fans to wear orange and maroon to Virginia Tech athletic events. We invite everyone from all over the country to be a part of the Virginia Tech family this Friday, to wear orange and maroon to support the families of those who were lost, and to support the school and community we all love so much.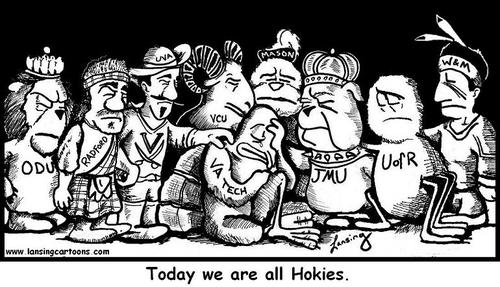 (thanks to Ben Lansing at www.lansingcartoons.com for the above image)
Again, my family and I send out our sympathies to Virginia Tech. GO HOKIES!!!

Similar Posts: